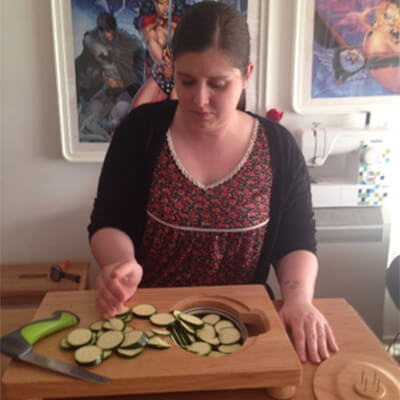 Cooking with Psioratic Arthritis
The Difficulty
Preparing meals can be painful at times and, for many of us, an impossible task due to weak hand function or the semi-loss of use of a hand. Jaye suffers from extremely painful psoriatic arthritis, a disease that causes joint inflammation and pain. She found preparing meals to be a painful and at times impossible task due to the effect of the disease on her hands, left wrist and both shoulders. Jaye has to do things one-handed and so can't use a standard grater, lift a chopping board or hold food in place whilst chopping it changed her life.
---
The Solution
The Easi-Grip® Multi-Function Food Preparation has been designed to sit stably on the work surface, holding ingredients on spikes whilst users peel and cut them into pieces before sweeping them into an in-built metal container which may be picked up and carried to a pan – no need to pick up a heavy chopping board. A built-in grater and container allows vegetables and cheese to be grated with one hand, and again, lifted out for transportation to another part of the kitchen.
---
The Results
"I used the grater to make a cheese sandwich and it was fantastic. The board is really stable so no effort is needed to keep it in place and I could grate one-handed. I can chop courgette and aubergine, for example, using the spikes to hold the food in place. I really like being able to scoop the vegetables into the metal tray, this can be done one handed and emptied straight into a pan – usually I have to pick up a handful of food at a time going back and forth to the chopping board which puts pressure on my hips and ankles. so the board relieved my lower body pressure too!"
If you too suffer from painful, swollen joints and find that you often have to work with only one hand, order yourself an Easi-Grip® Multi-Function Food Preparation Board and check out our other handy kitchen tools.