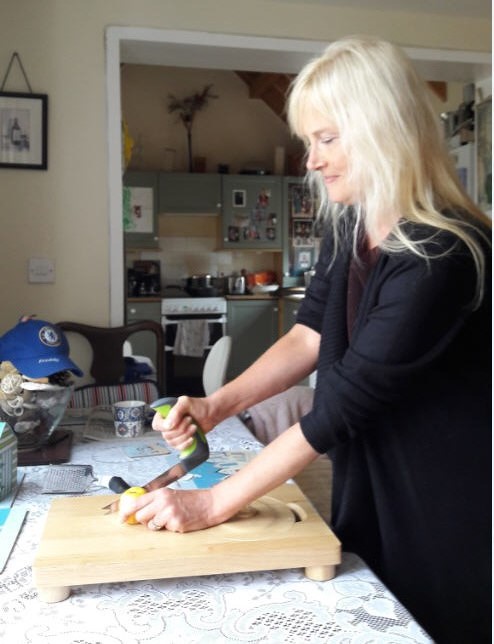 Cooking with Rheumatoid Arthritis
The Difficulty
Natalie was a nurse and a mother with a young family when her Rheumatoid Arthritis reached the stage where she could no longer work, let alone look after her family as she once had. Sadly, Natalie had to retire from nursing but she was determined that she would still be Mum, cooking and caring for her children.
Rheumatoid arthritis is a chronic progressive disease that causes inflammation in the joints and results in painful deformities and ultimately, immobility. Natalie found that she could no longer prepare healthy, nutritious meals due to the pain in her hands caused by chopping and cutting meat, fruit and vegetables.
---
The Solution
Natalie turned Easi-Grip® for help, trying the Easi-Grip® General Purpose Knife, Multi-Function Food Preparation Board and our well-loved Easi-Grip® Scissors. Now Natalie can chop fresh ingredients including root vegetables with ease: and save money by not having to buy pre-prepared vegetables.
---
The Results
"These tools are excellent; they work really well for me. I like the look of them and have confidence that they will last me for years. They are worth investing in as I found I am saving a fortune by no longer buying grated cheese, pre-chopped vegetables and ready-meals. I can enjoy cooking for the family again."
Just as importantly, Natalie has regained her love of being in the kitchen, feeding her family and being 'Mum'. "I've got enthusiasm for cooking again and love trying out new recipes."
PKT2-VK – Easi-Grip General Purpose Knife – "This knife is amazing, I haven't been able to chop root vegetables for years but with this knife I can either use a chopping or sawing action and find I can cut anything – even turnips and swede!  I feel I am using the power of my whole arm and not just my hand where the pressure on the joints hurts when I use a normal knife"
PKT2-FPB – Multi-Function Food Preparation Board – "This is excellent as it makes the job so much easier.  I can chop my vegetables on the board and just sweep them into the collecting dish to take straight to the cooker.  I don't get so tired now when I am cooking meals and I can now complete a whole recipe which I couldn't before".
PEG-5 – Easi-Grip Scissors – "I love, love, love these scissors!  They are so easy and light to use, they feel good quality and they are so versatile that they have become the "go to" pair of scissors for the whole family!"
If you too are a keen chef but struggle with conventional kitchen tools why not check out our own handy range of kitchen tools.