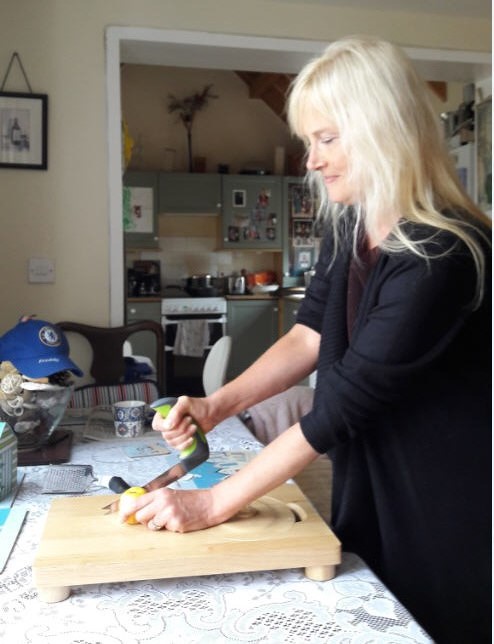 Natalie finds enthusiasm for cooking again
Natalie had to retire from her nursing career when her Rheumatoid Arthritis exacerbated to a stage where she could no longer work.  With a young family to care for, although she had time to prepare healthy nutritious meals for them, she found that she simply couldn't prepare food due to the actions involved and the pressure it put on her already swollen and painful joints.  Natalie tried some Peta Easi-Grip products and this is what she said:
PKT2-VK – Easi-Grip General Purpose Knife – "This knife is amazing, I haven't been able to chop root vegetables for years but with this knife I can either use a chopping or sawing action and find I can cut anything – even turnips and swede!  I feel I am using the power of my whole arm and not just my hand where the pressure on the joints hurts when I use a normal knife"
PKT2-FPB – Multi-Function Food Preparation Board – "This is excellent as it makes the job so much easier.  I can chop my vegetables on the board and just sweep them into the collecting dish to take straight to the cooker.  I don't get so tired now when I am cooking meals and I can now complete a whole recipe which I couldn't before".
PEG-5 – Easi-Grip Scissors – "I love, love, love these scissors!  They are so easy and light to use, they feel good quality and they are so versatile that they have become the "go to" pair of scissors for the whole family!"
"These tools are excellent, they work really well for me.  I like the look of them and have confidence that they will last me for years.  They are worth investing in as I found I am saving a fortune by no longer buying grated cheese, pre-chopped vegetables and ready-meals.  It's great that I can enjoy cooking for the family again".  "I've got enthusiasm for cooking again and trying out new recipes".