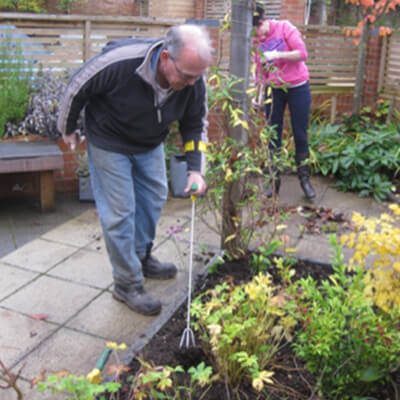 Gardening with Stroke Survival
The Difficulty
Fred survived a stroke but it left him unable to walk or use his left arm which took him some time to come to terms with. Having had various therapies he can now walk quite well, but his left arm remains very weak and he can no longer drive. Fred also finds balance difficult, if he bends down he often topples over. Thing which Fred once took for granted, such as enjoying working in his garden, became a huge challenge.
---
The Solution
Through Thrive*, the charity for social and therapeutic horticulture which runs many programs to assist people with mental and physical challenges to enjoy gardening, Fred came across Long Reach Easi-Grip® garden tools. These have been designed with an extended shank, this allows the gardener to reach ground level without having to bend down, they are also great for wheelchair gardeners as it helps them to reach further into the beds and borders. For maximum comfort and control it is recommended that they are used with an Easi-Grip® Arm Support Cuff which plugs into the rear of the tool and allows the strength and control of the forearm to be used too; it is interchangeable between all the Easi-Grip® garden tools.
---
The Results
"The tools are great because I don't have to get so close to the ground which, with my balancing issues, is a real problem as I could easily fall. The right angled handle is extremely handy and comfortable too, enabling me to continue for longer without too much strain on my wrist. I have far greater control with these tools, the Long Reach Cultivator in particular, making them much easier to use than a conventional tool."
"One thing I have learnt since surviving a stroke is that you must never give up. Something that helped me in my quest to continue gardening and maintain my allotments was the use of ergonomic gardening tools from Peta UK. The ease of use encourages me to do more and push myself which I think is really important to stroke survivors."
To find out more about Thrive Charity please visit thrive.org.uk
To find practical gardening tips and advice, visit Thrive's website carryongardening.org.uk
If you too are a keen gardener who struggles with conventional garden tools why not check out our own range of handy garden tools.