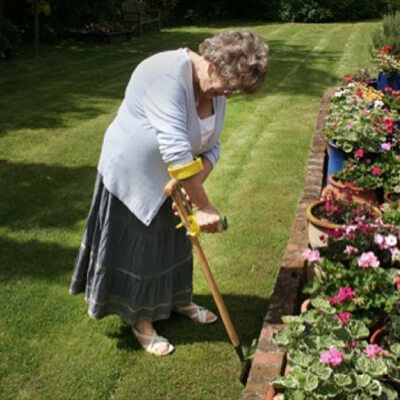 Gardening with Fibromyalgia
The Difficulty
When Morgan Hands was diagnosed with fibromyalgia, a common form of arthritis causing joint and muscle pain, she thought her gardening days were over. It was becoming increasingly difficult for her to spend much time gardening as she would get tired after doing very little. It was extremely frustrating and because of her love of gardening, she often overdid it, determined not to give in to her body telling her to stop. This would lead to intense pain over the following few days.
---
The Solution
Morgan turned to the Easi-Grip® range of garden tools in an attempt to find tools that would allow her to continue to enjoy the hobby she loved. Morgan used the full range of tools including the fork, trowel and cultivator, all with the arm support cuff. She also used Add-On Handles, which allow you to use convert your favourite hand tools to an ergonomic angle, alternatively set two of them at right angles to each other, on a rake or hoe, and you can garden without twisting and bending, saving your back as well as your hands! The support cuffs plug into the back of any Easi-Grip® garden tool and allows the gardener to use the strength of the forearm for all gardening activity, reducing stress on hand and wrist.
---
The Results
"I can garden for much longer because the strain on my whole body is vastly reduced and I finish with a great sense of achievement. I still feel it the next day, of course, but certainly not to the extremes that had almost stopped me gardening altogether."
If you too are a keen gardener who suffers from joint and muscle pain why not check out our range of handy garden tools.