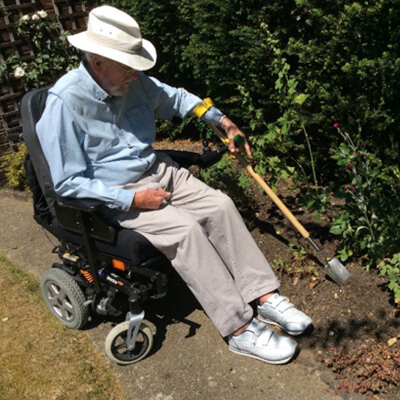 Gardening with Spinal Injuries
The Difficulty
John is in his 80's and is a tetraplegic after a fall from a ladder whilst pruning an apple tree. John suffered a broken neck and severe spinal cord injuries which left him totally paralysed and wheelchair-bound. Fortunately, some feeling and movement gradually returned to one side of his body. With help and clever technology, John learned to resume some limited activities, such as his beloved gardening, that reduced his boredom and previous 24-hour dependence on his carers.
John explains. "One of my main interests used to be gardening but with one side of my body still mainly paralysed there was not a lot I could usefully do."
---
The Solution
Thankfully, John discovered the Add-on Handle and Arm Support Cuff that allowed him to still use his garden tools with his one usable arm.
The simple arm support cuff comes with an aluminium rod that slots into the Easi-Grip range of long reach gardening tools and standard reach tools. This allows the gardener to use the strength in the full forearm, not just the hand and wrist, to manoeuvre the gardening tools. As well as giving support, the cuff stops the tool from falling to the ground if the user loses their grip.
The Add On Handles simply attach to any conventional style tools thus making them more comfortable to use. They may also be used with the arm support cuffs. By using two Add-On Handles set at right angles to each other on a rake or hoe, for example, you can carry out the task without twisting and bending, saving your back as well as your hands.
---
The Results
"I am a disabled and elderly person and I cannot say how pleased I was to discover the range of equipment they have cleverly designed to help disabled people in their everyday lives. I am gaining huge benefits from these wonderful tool accessories. Thoroughly recommend."
If you too are a keen gardener who struggles with conventional garden tools why not check out our own range of handy garden tools.